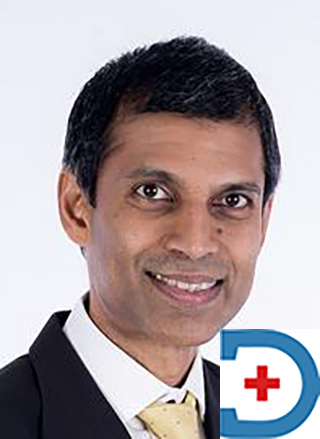 About Dr Shanker Pasupathy
Specialty: General Surgery
Languages: English, Indonesian, Malay, Tamil
Fellowship and accreditation
Bachelor of Medicine, Bachelor of Surgery, National University of Singapore
Fellow of the Royal College of Surgeons of Glasgow, UK
Fellow of the Royal College of Surgeons of Edinburgh, UK
Fellow of the Academy of Medicine of Singapore (General Surgery)
Experience
Dr Shanker Pasupathy is a general surgeon who practices in Singapore's Gleneagles and Mount Elizabeth hospitals. He is an expert in keyhole surgery for obesity and metabolic diseases, gastroesophageal conditions such as cancer and acid reflux, as well as gallbladder and abdominal hernia repair.
Dr Shanker graduated from the National University of Singapore with a Bachelor of Medicine and Bachelor of Surgery in 1995. He then completed additional training in general, GI, and vascular surgery in Singapore, Germany, the United Kingdom, and France. He obtained training in advanced keyhole and robotic surgery during his yearlong fellowship at the Research Institute against Digestive Cancer (IRCAD) and Louis Pasteur University in France.
Dr Shanker was previously a senior consultant and director of the Singapore General Hospital's lifestyle change and health enhancement (LIFE) center (SGH). He invented the laparoscopic sleeve gastrectomy (removal of a part of the stomach) and laparoscopic gastric bypass during his tenure there (creating a pouch in the stomach). He also established the Department of Upper Gastrointestinal and Bariatric Surgery at SGH.
Dr Shanker Pasupathy is the president of Singapore's Obesity and Metabolic Surgery Society (OMSSS), a member of the American Society for Metabolic and Bariatric Surgery (ASMBS), and a foreign faculty member at Taiwan's Asian Institute of Telesurgery (AITS). He previously served as president of the Asian Society of Endoscopic and Laparoscopic Surgeons (Singapore Chapter). He is often invited to hold keyhole surgery workshops both locally and internationally.
Dr Shanker Pasupathy Appointment Process
Appointment Number (For Serial): Appointment and medical enquiry: +65 6575 7575, Appointment Hospital mainline Tel: +65 6473 7222, Central Patient Assistance Centre 24-Hour Helpline: +65 6735 5000, WhatsApp us and get an appointment within 24 hours Tel: +65 8111 9777 (For specialist appointment booking only. WhatsApp messaging service is available in English and operates from Monday to Friday, 9am- 5pm.) For Online Appointment : Click here
Chamber Name & Address: Gleneagles Hospital Singapore, 6A Napier Road, Singapore 258500.
You may also love to Read: Our Health Tips
Other Doctor's list from Singapore : Click Here
Contact us: Facebook Link