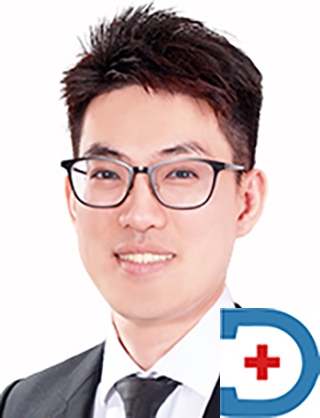 About Dr Yong Enming
Specialty: Vascular and Endovascular Surgery
Designation: Deputy Head (Vascular Diagnostic Laboratory), Consultant
Qualification: MBBS, MMed (Surgery), Dip Lap Surg (France), FRCSEd (Gen), MBA, RPVI
Clinical Interests: Vascular and Endovascular Surgery, Diabetic Limb Salvage, Peripheral Arterial Revascularisation, Chronic Venous Insufficiency (Superficial Venous Surgery and Iliac Vein Stenting), Aortic Aneurysm Repair, Vascular Access Surgery, Wound Care
Biodata
Dr Yong Enming is a general surgeon with a focus on vascular surgery. He earned his medical degree from the Yong Loo Lin School of Medicine at the National University of Singapore in 2010 and the postgraduate diploma MRCS from the Royal College of Surgeons of Edinburgh in 2013. Following that, he completed a five-year internship in General Surgery with National Healthcare Group. In 2017, he graduated from his alma mater with a Master of Medicine in Surgery and a Diploma in Laparoscopic Surgery from the University of Strasbourg, France.
Dr Yong Enming was licensed as a specialist by the Ministry of Health in 2018, following his successful completion of the Joint Specialty Fellowship Examinations in General Surgery and as a Fellow of the Royal College of Surgeons of Edinburgh. Additionally, he is a Registered Physician in Vascular Interpretation (RPVI) for vascular ultrasound through the American Registry for Diagnostic Medical Sonography.
Dr. Yong's clinical interests include diabetic limb salvage, chronic venous insufficiency, and varicose veins. He is a clinical lecturer at two of our local medical schools (Yong Loo Lin and Lee Kong Chian) and was the recipient of the 2018 NHG Teaching Award for Junior Doctors. Additionally, he is interested in innovation and operations management and holds a joint Master of Business Administration degree from IE Business School in Spain and Singapore Management University.
Dr Yong Enming Appointment Process
Appointment Number (For Serial): Phone: +65 6256 6011, General Enquiries: 6256 6011, Centralised Appointment Lines: 6357 7000, 9635 1421 (for local SMS), Billing Enquiries: 6407 8128, Emergency Department: 6357 8754, TTSH Community Fund: 6357 2500. For Online Appointment : Click here
Chamber Name & Address: Tan Tock Seng Hospital (TTSH), 11 Jln Tan Tock Seng, Singapore 308433.
You may also love to Read: Our Health Tips
Other Doctor's list from Singapore : Click Here
Contact us: Facebook Link