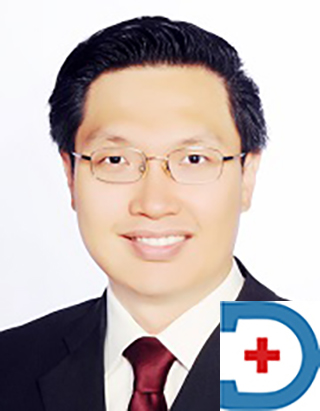 About Dr Aung Myint Oo Ye Jian Guo
Specialty: Upper Gastrointestinal, Bariatric and Metabolic Surgery
Designation: Deputy Chief Medical Informatics Officer (Dy CMIO), Senior Consultant
Qualification: MBBS, MRCSEd, MMed (Surgery), MCI, FRCSEd (General Surgery), FICS, FAMS, FACS
Clinical Interests: ​GGeneral Surgery, Minimally Invasive (Laparoscopic) Surgery, Surgery of the Upper Gastrointestinal Tract including Gastric and Esophageal Cancer, Bariatric & Metabolic Surgery, Diagnostic & Therapeutic Endoscopy, Hernia and Abdominal Wall Surgery
Biodata
Dr Aung Myint Oo Ye Jian Guo is a Senior Consultant Surgeon in the Department of General Surgery and the Tan Tock Seng Hospital's Deputy Chief Medical Informatics Officer.
He is also a clinical senior lecturer at the National University of Singapore's Yong Loo Lin School of Medicine and an adjunct senior lecturer / clinical module lead (gastrointestinal system) at the Nanyang Technological University of Singapore's Lee Kong Chian School of Medicine.
Dr Aung Myint Oo Ye Jian Guo completed his surgical training in Singapore, both basic and advanced. He was awarded a Health Manpower Development Plan (HMDP) fellowship at Seoul National University Bundang Hospital in Korea to train in advanced minimally invasive upper gastrointestinal surgery. He is a member of the international endo-laparoscopic and bariatric surgeon societies. He is currently a member of the executive board of the Obesity and Metabolic Surgery Society of Singapore (OMSSS), the Chairman of the Chapter of General Surgeons, College of Surgeons, Academy of Medicine Singapore, and a member of the International Federation for the Surgery of Obesity and Metabolic Disorders' Communication Committee (IFSO). He is also a member of the executive committee of SingSPEN (the Singapore Society of Parenteral and Enteral Nutrition) and the Gastric Cancer Awareness Month Committee of the Singapore Cancer Society. He is actively involved in ELSA's (Endoscopic and Laparoscopic Surgeons of Asia) Digital Transformation Project and serves as Co-Chair of ELSA's Communication and Informatics Committee.
Dr. Aung is involved in clinical studies as well as teaching. In 2013, he was awarded a Ministry of Health Healthcare Research Scholarship to undertake a Master of Clinical Investigation (MCI) at the National University of Singapore, which he completed in 2016. Additionally, he serves as a Co-Investigator on many international gastric cancer clinical trials. He has not only conducted research in peer-reviewed medical journals, but he also serves as a peer-reviewer for peer-reviewed medical journals. He is currently an instructor for Advanced Cardiac Life Support (ACLS) and Advanced Trauma Life Support (ATLS) courses, as well as a key staff member/faculty member of Singapore's surgical residency programs. He is also an e-tutor for the MSc in Surgical Science at Edinburgh Surgical Science Qualifications in the United Kingdom and a Visiting Lecturer at the Department of Thoracic Surgery at the University of Medicine 1, Yangon in Myanmar, as well as a member of the Royal College of Surgeons of Edinburgh's Surgical Specialty Board in General Surgery.
Dr Aung Myint Oo Ye Jian Guo Appointment Process
Appointment Number (For Serial): Phone: +65 6256 6011, General Enquiries: 6256 6011, Centralised Appointment Lines: 6357 7000, 9635 1421 (for local SMS), Billing Enquiries: 6407 8128, Emergency Department: 6357 8754, TTSH Community Fund: 6357 2500. For Online Appointment : Click here
Chamber Name & Address: Tan Tock Seng Hospital (TTSH), 11 Jln Tan Tock Seng, Singapore 308433.
You may also love to Read: Our Health Tips
Other Doctor's list from Singapore : Click Here
Contact us: Facebook Link