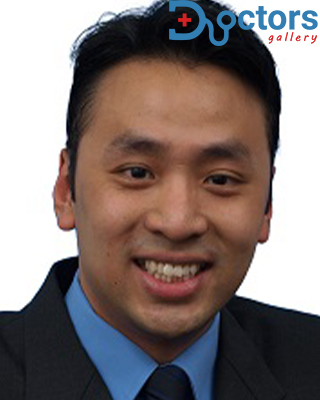 About Dr Bryan Ang Chin Hou
Specialty: Ophthalmology
Designation: Consultant
Qualification: MBBS (S'pore), MMed (Ophth) (Medal), FAMS (S'pore), FRCOphth (London)
Clinical Interests: Glaucoma, Cataracts, General Ophthlamology
Biodata
Dr Bryan Ang Chin Hou is a Consultant at the National Healthcare Group (NHG) Eye Institute @ Tan Tock Seng Hospital in Singapore, where he heads the Glaucoma Service.
Dr Bryan Ang Chin Hou earned his undergraduate medical degree from the National University of Singapore (NUS) in 2007, where he graduated on the Dean's List, earned a Distinction in Surgery, and was recognized as the cohort's second best surgical candidate. He also earned a Master of Medicine (Ophthalmology) from NUS in 2012, earning a Gold Medal for being the best candidate in the final examinations. Dr Ang was elected a Fellow of both The Royal College of Ophthalmologists (London) and The Academy of Medicine Singapore in 2016 and 2017, respectively, upon completion of his specialised training. Dr Ang was the Deputy Chief Resident of NHG Eye Institute @ Tan Tock Seng Hospital in 2017.
Dr Ang is board certified in Glaucoma, Cataract Surgery, and General Ophthalmology. Between 2018 and 2019, he did a clinical fellowship in glaucoma at the NHG Eye Institute @ Tan Tock Seng Hospital. Dr Ang's work in glaucoma surgery has received international recognition. He was given the second best surgical film at the 8th World Glaucoma Congress in 2019 and has been asked to lecture and teach at a number of prestigious worldwide conferences, including the American Academy of Ophthalmology Annual Meeting, the World Ophthalmology Congress, and the Asia-Pacific Glaucoma Congress. He has published his findings in a variety of scientific journals and has previously won the NHG Eye Institute's Best Paper Presentation (Intermediate Category) in 2014 and the Runner-Up Best Poster Award (Open Category) in 2018.
Dr Ang is committed to providing high-quality clinical care. Dr Ang received the Singapore Health Quality Service Award (Silver) in 2014 for his exceptional clinical service. He is currently the NHG Eye Institute @ Tan Tock Seng Hospital's Department Quality Reporting Officer.
Dr Bryan Ang Chin Hou Appointment Process
Appointment Number (For Serial): Phone: +65 6256 6011, General Enquiries: 6256 6011, Centralised Appointment Lines: 6357 7000, 9635 1421 (for local SMS), Billing Enquiries: 6407 8128, Emergency Department: 6357 8754, TTSH Community Fund: 6357 2500. For Online Appointment : Click here
Chamber Name & Address: Tan Tock Seng Hospital (TTSH), 11 Jln Tan Tock Seng, Singapore 308433.
You may also love to Read: Our Health Tips
Other Doctor's list from Singapore : Click Here
Contact us: Facebook Link