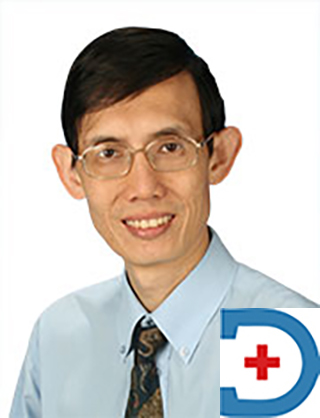 About Dr Chan Mun Yew Patrick
Specialty: General Surgery
Designation: Senior Consultant
Qualification: MBBS, FRCS (Edin), FAMS
Clinical Interests: General Surgery, Breast & Endocrine Surgery
Biodata
Dr Chan Mun Yew Patrick earned a Bachelor of Medicine and Surgery degree from the National University of Singapore in 1987. He received his post-graduate diploma FRCS from the Royal College of Surgeons, Edinburgh in 1992, with a deep interest in surgery.
Dr Chan Mun Yew Patrick also earned a FAMS from the Singapore Academy of Medicine in 1996.
He developed an interest in breast cancer surgery shortly after beginning his post-fellowship training. In 1997, he accepted a position as a specialist fellow at the Edinburgh Breast Unit in Edinburgh, Scotland. The EBU is a busy breast unit that treats more than 500 new cases of breast cancer each year. Prof Chan began his career as a consulting breast surgeon shortly after leaving that unit.
Prof Chan is currently a Senior Consultant at Tan Tock Seng Hospital's Department of Surgery and also serves as the Director of The Breast Clinic. He joined Tan Tock Seng Hospital in 2001 with the goal of focusing exclusively on breast cancer care. Currently, his unit sees and treats more than 300 new cases of breast cancer per year.
He is a specialist in the diagnosis and treatment of all forms of breast disorders, using cutting-edge breast biopsy, cancer surgery, and reconstructive modalities. These procedures include minimally invasive surgery to remove breast lumps, magnetic resonance imaging (MRI) biopsy, and sentinel lymph node biopsy. His unit adheres to a systematic approach to breast cancer treatment, including medical and radiation oncologists, breast care nurses, and breast cancer survivors as volunteers.
Prof Chan is also an experienced researcher in breast cancer, having participated at both national and international breast cancer conferences and published in international journals.
Dr Chan Mun Yew Patrick Appointment Process
Appointment Number (For Serial): Phone: +65 6256 6011, General Enquiries: 6256 6011, Centralised Appointment Lines: 6357 7000, 9635 1421 (for local SMS), Billing Enquiries: 6407 8128, Emergency Department: 6357 8754, TTSH Community Fund: 6357 2500. For Online Appointment : Click here
Chamber Name & Address: Tan Tock Seng Hospital (TTSH), 11 Jln Tan Tock Seng, Singapore 308433.
You may also love to Read: Our Health Tips
Other Doctor's list from Singapore : Click Here
Contact us: Facebook Link