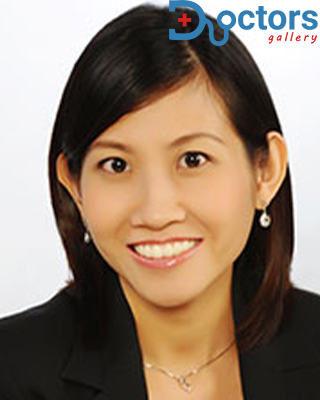 About Dr Chin Chee Fang
Specialty: Ophthalmology
Designation: Head of Service (Neuro-Ophthalmology), Senior Consultant
Qualification: MBChB (Edin), MMed (Ophth), MRCSEd (Ophth), FRCSEd (Ophth), FAMS
Clinical Interests: NEURO-OPHTHALMOLOGY,
CATARACT,
GENERAL OPHTHALMOLOGY
Biodata
Dr Chin Chee Fang is a Senior Consultant at Tan Tock Seng Hospital's National Healthcare Group Eye Institute (NHGEI).
Dr Chin Chee Fang graduated from the University of Edinburgh in the United Kingdom with a Bachelor of Medicine and Surgery. She completed her Ophthalmology specialty training in Singapore, where she received honors for being the Best Candidate in Cataract, Cornea, and Glaucoma at the exit tests. She holds a Master of Medicine in Ophthalmology from the National University of Singapore and is a Fellow of both the Royal College of Surgeons of Edinburgh and the Academy of Medicine Singapore.
Dr Chin received a Ministry of Health Training Scholarship and completed a 12-month clinical fellowship in Neuro-Ophthalmology at the National Hospital for Neurology and Neurosurgery in London, United Kingdom, under the supervision of Drs James Acheson, Fion Bremner, Elizabeth Graham, and Gordon Plant. Neuro-Ophthalmology, vision rehabilitation, and general ophthalmology, including cataract surgery, are among her therapeutic interests.
Dr Chin is currently the Head of the Neuro-Ophthalmology Subspecialty and the Chairman of the Ophthalmology Department's Clinic Management Committee. Dr Chin is actively involved in educating medical students, residents, and fellows, and serves as a National Examiner for the American Board of Medical Specialties (Singapore) and on the Ophthalmology Exam Working Committee.
Dr Chin Chee Fang Appointment Process
Appointment Number (For Serial): Phone: +65 6256 6011, General Enquiries: 6256 6011, Centralised Appointment Lines: 6357 7000, 9635 1421 (for local SMS), Billing Enquiries: 6407 8128, Emergency Department: 6357 8754, TTSH Community Fund: 6357 2500. For Online Appointment : Click here
Chamber Name & Address: Tan Tock Seng Hospital (TTSH), 11 Jln Tan Tock Seng, Singapore 308433.
You may also love to Read: Our Health Tips
Other Doctor's list from Singapore : Click Here
Contact us: Facebook Link