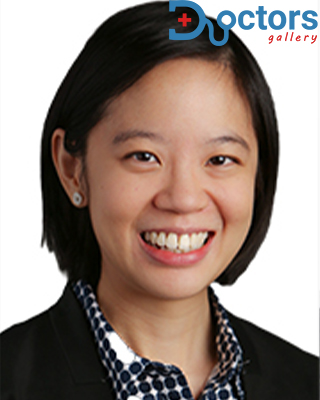 About Dr Gan Yian Nicola
Specialty: Ophthalmology
Designation: Consultant
Qualification: MBBS, MMed (Ophth), FRCOphth (Ldn)
Clinical Interests: ​​MEDICAL AND SURGICAL RETINA, CATARACT AND GENERAL OPHTHALMOLOGY
Biodata
Dr Gan Yian Nicola is a Consultant at the National Healthcare Group Eye Institute at Tan Tock Seng Hospital and serves as the Deputy Head of the Vitreo-Retina Service.
Dr Gan Yian Nicola completed her undergraduate medical training at the National University of Singapore's Yong Loo Lin School of Medicine in 2007, earning Bachelor degrees in Medicine and Surgery and being named to the Dean's list with Distinction in Medicine and Biochemistry. She completed postgraduate training in ophthalmology at the National University of Singapore, earning a Master of Medicine (Ophthalmology) in 2011 and being elected a Fellow of the Royal College of Ophthalmologists (London) in 2014. In 2014, she passed the local Ophthalmology specialist exit exam and was awarded Gold Medals for being the Best Candidate in Retina, Uveitis, Glaucoma, and Paediatric Ophthalmology. She also received a Ministry of Health Training Scholarship in 2009 and underwent a two-year overseas fellowship in Surgical and Medical Retina at the University of Toronto from 2015 to 2016. Dr Gan is a member of the American Society of Retinal Specialists at the present time.
Dr Gan Yian Nicola's areas of expertise include Retina Surgery and Medical Retina, Cataract Surgery, and General Ophthalmology. She is a researcher and has presented at a number of national and international ophthalmology conferences. She received the NHG Eye Institute Allergan research prize for best junior category paper presentation in 2008 and 2010, the NHG Eye Institute Award of Distinction for best intermediate category paper presentation in 2013, and the Singapore Eye Foundation Award for 1st runner up junior category paper presentation in 2014.
Dr Gan is involved in undergraduate medical teaching as a Senior Clinical Lecturer at NUS's Yong Loo Lin School of Medicine and as a Core Clinical Tutor at NTU's Lee Kong Chian School of Medicine. In 2013-2014, she served as a student mentor to the Lee Kong Chian School of Medicine's pioneer batch of students and received the NHG Teaching Award for Junior Clinicians in 2013.
Dr Gan Yian Nicola Appointment Process
Appointment Number (For Serial): Phone: +65 6256 6011, General Enquiries: 6256 6011, Centralised Appointment Lines: 6357 7000, 9635 1421 (for local SMS), Billing Enquiries: 6407 8128, Emergency Department: 6357 8754, TTSH Community Fund: 6357 2500. For Online Appointment : Click here
Chamber Name & Address: Tan Tock Seng Hospital (TTSH), 11 Jln Tan Tock Seng, Singapore 308433.
You may also love to Read: Our Health Tips
Other Doctor's list from Singapore : Click Here
Contact us: Facebook Link