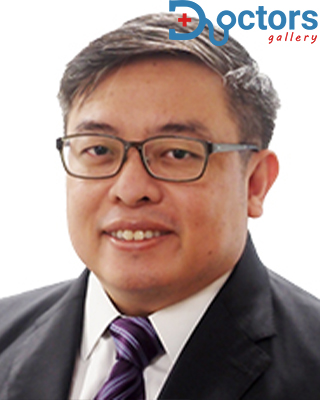 About Dr Kau Chung Yuan
Specialty: Orthopaedic Surgery
Designation: Consultant
Qualification: MBBS (S'pore), MRCS (Ireland), MMed (Orth), FRCS Edin (Orth)
Clinical Interests: Complex Primary and Revision Hip and Knee Arthroplasty. Unicompartment Knee Replacement. Robotics and MAKOplasty. Computer Navigated Primary Hip and Knee Arthroplasty. General Orthopaedics and Trauma
Biodata
Dr Kau Chung Yuan graduated from the National University of Singapore in 2004 with a medical degree. His early post-graduate career saw him train in Orthopaedics at various local hospitals before settling at Tan Tock Seng Hospital's Department of Orthopaedics.
Dr Kau Chung Yuan earned his postgraduate degree in orthopaedics and certification as a Fellow in Orthopaedic Surgery from the Royal College of Surgeons in Edinburgh in 2014.
Dr Kau received a distinguished Ministry of Health, Human Manpower Development Program (HMDP) fellowship in 2015 to pursue additional speciality training. He continued his education by completing a Fellowship in Adult Reconstructive Surgery (Hip and Knee) at Southampton University Hospital in the United Kingdom. His specialized interests include unicompartment hip and knee arthroplasty, as well as revision and complete hip and knee arthroplasty. He is an expert in the Oxford Partial Knee Arthoplasty (PKA) system and serves as a regional lecturer for aspiring orthopaedic surgeons. He has spoken as an invited speaker at international conferences and serves as an arthroplasty instructor at local and regional meetings. Dr Kau is also adept in trauma treatment and general orthopaedics as a member of a strong orthopaedic department at a tertiary trauma center.
He is a technology enthusiast who is adept in the use of robotics (MAKOplasty) and computer navigation for hip and knee replacements. He is a believer in accelerated healing following surgery and employs minimally invasive surgical techniques to aid his patients in their rehabilitation. He is trained in the Direct Anterior Hip Approach, which enables his patients to recover more quickly following total hip replacement. Dr Kau is committed to innovation and works closely with the orthopaedic sector to introduce innovative technology to Singapore.
Dr Kau is an educator who is committed to medical education. Since 2016, he has served as the Orthopaedic Co-Lead for the Lee Kong Chian School of Medicine's (NTU-Imperial College) undergraduate orthopaedic program. Each year, the program graduates a large number of young medical students, assisting them in developing important clinical skills and holistic care. Dr Kau is currently employed at the institution as an Adjunct Assistant Professor. Additionally, he is a Senior Lecturer at the Yong Loo Lin School of Medicine (NUS). He volunteers as an Examiner for both schools' final undergraduate examinations. He is a member of the Core Clinical Faculty of the NHG-AHPL Orthopaedic Surgery Residency Program, which is responsible for the selection and training of future orthopaedic surgeons.
Dr Kau has written in peer-reviewed scientific journals and is actively involved in research pertaining to all aspects of arthroplasty.
Dr Kau Chung Yuan Appointment Process
Appointment Number (For Serial): Phone: +65 6256 6011, General Enquiries: 6256 6011, Centralised Appointment Lines: 6357 7000, 9635 1421 (for local SMS), Billing Enquiries: 6407 8128, Emergency Department: 6357 8754, TTSH Community Fund: 6357 2500. For Online Appointment : Click here
Chamber Name & Address: Tan Tock Seng Hospital (TTSH), 11 Jln Tan Tock Seng, Singapore 308433.
You may also love to Read: Our Health Tips
Other Doctor's list from Singapore : Click Here
Contact us: Facebook Link