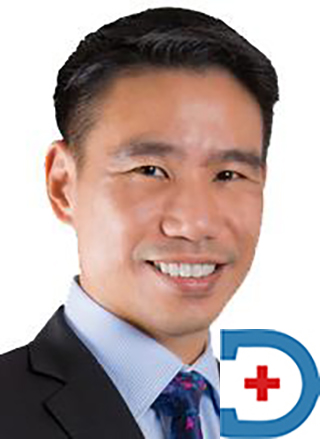 About Dr Lee Piao Jarrod
Specialty: Gastroenterology
Languages: English, Mandarin
Fellowship and accreditation
Bachelor of Medicine, Bachelor of Surgery, National University of Singapore
Member of the Royal College of Physicians, UK)
Experience
Dr Lee Piao Jarrod is a gastroenterologist practicing in Singapore. He is affiliated with Mount Elizabeth Hospitals, Gleneagles Hospital, and Parkway East Hospital.
His research interests include gastrointestinal cancer screening and prevention, as well as the use of technology for early detection and prevention of cancer. He is an expert in advanced endoscopy, including endoscopic ultrasound and retrograde pancreatic cholangiography.
Dr Lee Piao Jarrod founded the gastroenterology service at Khoo Teck Puat Hospital (KTPH) in 2010 and also established the hospital's division of gastroenterology and endoscopy center, serving as clinical lead and chairman of the respective units before he left for private practice. He served as a visiting consultant at the National University Hospital and KTPH in the past.
He graduated in 1998 and completed his residency in internal medicine in 2004. He was certified as a gastroenterology specialist in 2009.
Dr Lee is a recipient of the American Society for Gastrointestinal Endoscopy's (ASGE) Audiovisual Award and the ASGE Crystal Award, which recognize outstanding educational productions and contributions to the field of gastrointestinal endoscopy. He is the first and only person from Southeast Asia to have earned these honors.
He gives several lectures both locally and regionally. He serves as a reviewer for many endoscopy publications worldwide and consults for major endoscopy firms. Additionally, he is a regular guest speaker and writer for the primary healthcare sector, collaborating with family doctors to improve the community's digestive health.
Dr Lee continues to work in the public sector as a visiting consultant endoscopist, performing complex procedures and training the next generation of endoscopists.
Dr Lee Piao Jarrod Appointment Process
Appointment Number (For Serial): Appointment and medical enquiry: +65 6575 7575, Appointment Hospital mainline Tel: +65 6473 7222, Central Patient Assistance Centre 24-Hour Helpline: +65 6735 5000, WhatsApp us and get an appointment within 24 hours Tel: +65 8111 9777 (For specialist appointment booking only. WhatsApp messaging service is available in English and operates from Monday to Friday, 9am- 5pm.) For Online Appointment : Click here
Chamber Name & Address: Gleneagles Hospital Singapore, 6A Napier Road, Singapore 258500.
You may also love to Read: Our Health Tips
Other Doctor's list from Singapore : Click Here
Contact us: Facebook Link