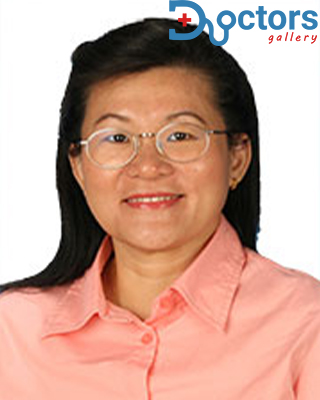 About Dr Leo Yee Sin
Specialty: Infectious Diseases
Designation: Executive Director (NCID), Senior Consultant
Qualification: MBBS, M Med (Int Med), MPH, MRCP (UK), FRCP, FAMS
Clinical Interests: HIV Medicine, Communicable Diseases, General Infectious Diseases, Outbreak Disease Management
Biodata
Dr Leo Yee Sin now serves as the Executive Director of the National Center for Infectious Diseases (NCID).
Dr Leo Yee Sin is a clinician specializing in infectious diseases with a strong interest in public health. She established the CDC's comprehensive HIV program in 1995 and has continued to devote her efforts to improving HIV management and the overall well-being of individuals infected and afflicted by the disease to the present day. Notably, she led her team through many outbreaks in recent years in Singapore, including Nipah (1999), SARS (2003), Chikungunya (2008), the 2009 Pandemic Influenza outbreaks, and the current dengue case rise since 2013. Her experience managing outbreaks is routinely sought as an advisor at the national, regional, and international levels. In 2003, she received the most prestigious national honor, "The Public Service Star," for her valiant fight against SARS. Professor Leo was appointed the Institute of Infectious Diseases and Epidemiology's first Director in November 2012. She was charged with providing administrative and professional leadership for the establishment of IIDE with the goal of enhancing the integration and coordination of infectious diseases and associated sectors in Singapore. Additionally, she is responsible for overseeing the construction of a new state-of-the-art infectious disease hospital, the National Centre for Infectious Diseases (NCID), which is scheduled to open in 2018.
Professor Leo earned a Bachelor of Science in 1983 and a Master of Medicine and MRCP in 1989 from the National University of Singapore. She received her Master of Public Health (Saw Swee Hock, School of Public Health, NUS) in 2013 as a lifelong learner who never stops improving herself. Apart from her clinical and administrative responsibilities, she is an in-demand speaker who is equally committed to teaching and research. Dengue fever, influenza, emerging diseases, and HIV are among her study interests. To date, she has authored well over 170 peer-reviewed publications.
Dr Leo Yee Sin Appointment Process
Appointment Number (For Serial): Phone: +65 6256 6011, General Enquiries: 6256 6011, Centralised Appointment Lines: 6357 7000, 9635 1421 (for local SMS), Billing Enquiries: 6407 8128, Emergency Department: 6357 8754, TTSH Community Fund: 6357 2500. For Online Appointment : Click here
Chamber Name & Address: Tan Tock Seng Hospital (TTSH), 11 Jln Tan Tock Seng, Singapore 308433.
You may also love to Read: Our Health Tips
Other Doctor's list from Singapore : Click Here
Contact us: Facebook Link