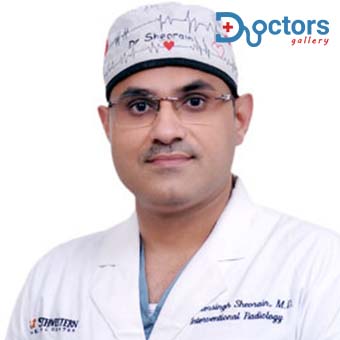 About Dr Virender K Sheorain
Specialty: Peripheral Vascular and Endovascular Sciences
Affiliated Hospital: Medanta – The Medicity Hospital, Gurgaon
Designation: Senior Consultant
Experience: 20+ Years
Gender: Male
Professional Statement
Dr Virender K Sheorain is an endovascular expert who received his training at world-renowned universities in the United States of America, including George Washington University Medical Center, University of Texas Southwestern Medical Center, and University of Tennessee Health Science Center.
He specializes in endovascular therapy for a variety of vascular conditions. He specializes in aortoiliac and peripheral endovascular procedures. venous access interventions (installation of a percutaneous hemodialysis catheter) AV Fistula maturation, graft declotting, anastomotic recanalization, and central occlusion) Endovascular hemangioma and vascular malformations therapy Fibroids and non-fibroid etiologies can also benefit from uterine artery embolization. For pelvic congestion (female pelvic pain) and varicoceles, gonadal vein embolization is used (male infertility) Massive hemoptysis requires bronchial artery embolization.
Thrombolysis and mechanical thrombectomy for Deep Vein Thrombosis (DVT). Endovascular laser/RF therapy of varicose veins with IVC filter implantation and retrieval (EVLT) chemo ports, PICC/central lines, and duplex scans are challenging to put (surveillance diagnostic and follow-up of carotid abdominal aorta peripheral arterial and venous system). He has completed a huge number of difficult endovascular cases during his professional career in the United States and now brings this expertise to Medanta.
Education
| QUALIFICATIONS | INSTITUTE / DEPARTMENT | YEAR |
| --- | --- | --- |
| Fellowship in Pediatric Radiology | The University of Tennessee Health Science Centre | 2011 |
| Fellowship in Neuroradiology | The George Washington University | 2010 |
| Fellowship in Vascular and Interventional Radiology | The University of Texas | 2009 |
| M.D. (Radiology) | Govt. Medical College, Nagpur | 2007 |
| M.B.B.S | NKP Slave Institute of Medical Sciences, Nagpur | 2000 |
Expertise
Aortoiliac & Peripheral Endovascular Interventions
Uterine Artery Embolization
Bronchial artery embolization
Language Spoken
English, Hindi
Dr Virender K Sheorain Appointment Process
Appointment Number (For serial): +91 124 4855017, +91 11411 71881 – Ext. 513, Emergency: 1068.
For Online Appointment: Click Here
Dr Virender K Sheorain Chamber Name & Address: Medanta – The Medicity Hospital, CH Baktawar Singh Rd, near Olympus, Medicity, Islampur Colony, Sector 38, Gurugram, Haryana 122001, India. (See on Google Map)
You may also love to Read: Our Health Tips
Other Doctor's list from India: Click Here
Contact us: Facebook Link