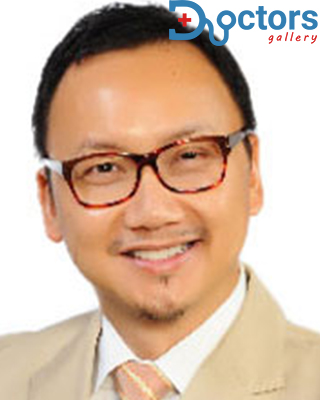 About Dr Wong Hon Tym
Specialty: Ophthalmology
Designation: Senior Consultant
Qualification: MBBS, FRCSEd, MMed, FAMS (Singapore)
Clinical Interests: GLAUCOMA,
CATARACT,
GENERAL OPHTHALMOLOGY
Biodata
Dr Wong Hon Tym is the Medical Director of the National Healthcare Group Eye Institute (NHGEI) in Singapore and also serves as the Clinical Director of the Centre for Healthcare Innovation (CHI). CHI is a nonprofit organization that operates an open co-learning network with a primary focus on healthcare workforce reform.
Dr Wong Hon Tym also served as Pro-Tem Chief of the Ophthalmology Department at the forthcoming Woodlands Health Campus, while continuing to serve as a Senior Consultant in the Ophthalmology Department of Tan Tock Seng Hospital and as a member of the hospital's Medical Board.
Dr Wong Hon Tym served as Clinical Director of NHG 1-Health, a community ambulatory surgical center, from 2008 to 2015, where he oversaw the design and implementation of a streamlined cataract surgery value-added procedure (VAP).
A/Prof Wong graduated from the Royal College of Surgeons (Edinburgh) with a Fellowship in 1999 and a Masters degree in Medicine (Ophthalmology) in 2000.
A/Prof Wong received a scholarship from Singapore's Ministry of Health's Manpower Development Programme in 2002 and completed his clinical fellowship at Moorfields Eye Hospital in the United Kingdom, where he received subspecialty training in optic nerve head imaging in glaucoma. His research on glaucoma surgery, anterior segment imaging, and treatments has been published in prestigious peer-reviewed journals and presented at significant professional conferences such as ARVO.
A/Prof Wong is actively involved in the teaching and teaching of Singapore's junior ophthalmologists, and his efforts have been recognized with many Best Teacher Awards. He has mentored four clinical fellows and taught courses at the American Academy of Ophthalmology's annual meeting, the World Glaucoma Congress, and the European Glaucoma Society's annual meeting.
His efforts to provide superior patient care were also honored in 2006 with Singapore's Excellent Service Star Award. His present positions as Critical Incident Manager and instructor of Open Communication reflect his strong interest in patient communication.
A/Prof Wong was honored with the Distinguished Service Award by Khoo Teck Puat Hospital for Eye and Vision Health in 2013, and with the National Healthcare Group's Outstanding Citizenship Award in 2014.
Dr Wong Hon Tym Appointment Process
Appointment Number (For Serial): Phone: +65 6256 6011, General Enquiries: 6256 6011, Centralised Appointment Lines: 6357 7000, 9635 1421 (for local SMS), Billing Enquiries: 6407 8128, Emergency Department: 6357 8754, TTSH Community Fund: 6357 2500. For Online Appointment : Click here
Chamber Name & Address: Tan Tock Seng Hospital (TTSH), 11 Jln Tan Tock Seng, Singapore 308433.
You may also love to Read: Our Health Tips
Other Doctor's list from Singapore : Click Here
Contact us: Facebook Link