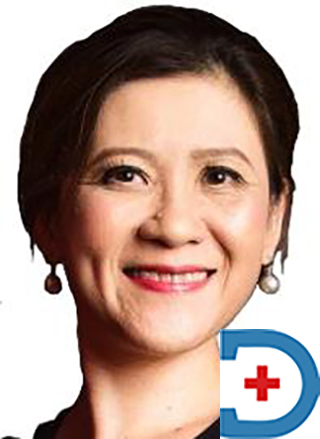 About Dr Yang Mary
Specialty: Obstetrics & Gynaecology
Languages: English
Fellowship and accreditation
MBBS (Hons) (Newcastle-Upon-Tyne, England)
FRCOG (United Kingdom)
M. Med (Obstetrics & Gynaecology) (Singapore)
FAMS
Experience
Dr Yang Mary earned her bachelor's degree with honors from the University of Newcastle-Upon-Tyne in England over 30 years ago. She returned to Singapore to resume clinical practice and chose to specialize in Obstetrics and Gynecology. She has received instruction at several of the nation's premier teaching hospitals, including the Cleveland Clinic, Brigham and Women's Hospital (a Harvard Medical School-affiliated teaching hospital), and Tufts Medical Centre (Tuft University School of Medicine).
Dr Yang Mary was a Senior Lecturer at the National University of Singapore prior to entering private practice. Additionally, she previously worked as a Consultant at the National University Hospital. During that time period, she conducted research and published several articles on Adolescent Gynaecology.
Dr Yang has spent the last three decades advocating for women's health. She has delivered many babies throughout her career.
Dr Yang Mary Appointment Process
Appointment Number (For Serial): Appointment and medical enquiry: +65 6575 7575, Appointment Hospital mainline Tel: +65 6473 7222, Central Patient Assistance Centre 24-Hour Helpline: +65 6735 5000, WhatsApp us and get an appointment within 24 hours Tel: +65 8111 9777 (For specialist appointment booking only. WhatsApp messaging service is available in English and operates from Monday to Friday, 9am- 5pm.) For Online Appointment : Click here
Chamber Name & Address: Gleneagles Hospital Singapore, 6A Napier Road, Singapore 258500.
You may also love to Read: Our Health Tips
Other Doctor's list from Singapore : Click Here
Contact us: Facebook Link